Register
Steel United CA - Conejo Valley Spring Tryouts Soccer · Any
MonTueWedThuFriSatSun 4:30pm to 8:00pm
Steel United CA - Conejo Valley 2022/23 Tryouts


Tryouts Ongoing Through May 31st
Monday & Wednesday
2010 Girls at Aspen Elementary School, 1870 Oberlin Ave, Thousand Oaks, CA 91360, 5-6:30pm
Tuesdays
2012 Girls at Madrona Elementary School, 612 Camino Manzanas, Thousand Oaks, CA 91360 4:30-6pm
2008-09 Girls at Madrona Elementary School, 612 Camino Manzanas, Thousand Oaks, CA 91360, 4:30-6pm
2006-07 Girls at Arroyo Vista Community Park, 4550 Tierra Rejada Rd, Moorpark, CA 93021, 6-7:30pm
Thursday
2008-09 Girls at Thousand Oaks High School, 2323 N Moorpark Rd, Thousand Oaks, CA 91360, 6:30-8pm
2006-07 Girls at Thousand Oaks High School, 2323 N Moorpark Rd, Thousand Oaks, CA 91360, 6:30-8pm
Why Join Steel United?
Steel United is committed to maximizing each player's potential on and off the field. We produce highly skilled players with dynamic physical and mental tools and a positive learning environment. When players leave the pitch, our job isn't finished. Personal development and molding strong character traits in each one of our young athletes is equally important to what we accomplish between the lines.
Steel United is part of Steel Sports, a social impact organization that through its mission, vision and core values -- Teamwork, Respect, Integrity and Commitment -- teaches life lessons and focuses on character development. Through its Kids First approach, Steel Sports coaches, educates and inspires youth athletes and families across the country.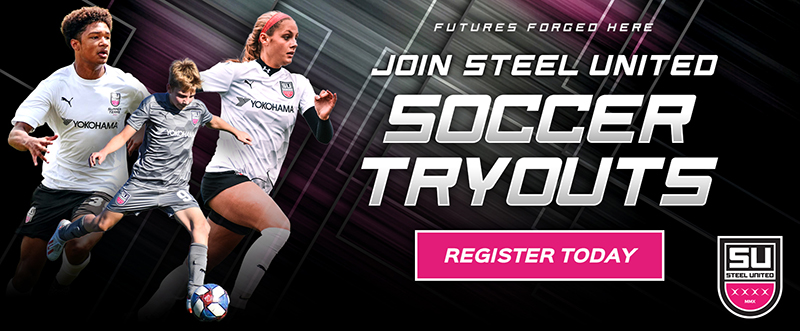 Event Notes:
Now accepting registrations!